Some of the best boutique hotels that one can find in London
London is a huge city and a major tourist destination, so there is very little wonder that one can find some pretty fine hotels scattered across the whole territory of the capital. Some of those would be big, others would be small. Some would be luxurious, others modest, but no matter what your preferences and budget is, there is very little doubt that you will be able to find a place that is up to your likings. All you need to do is a little research. Here we have gathered a few offers for the best small luxury hotels tucked away in the streets of London.
Egerton House
If you are not a fan of big hotels with hundreds of rooms, then a good alternative for you would be the famous Egerton House, which is celebrated as being one of the best boutique hotels on the territory of the capital today. Egerton House is to be found in Knightsbridge, an area which is famous for two things – its luxury boutique stores and the fact that it is home to the most expensive residential properties in London. The hotel will offer you luxury bedding, free wi-fi and air-conditioning in every room, iPod docks and flat-screen TVs – and this is just the beginning. Opting for the Egerton House means that you will be staying in downtown London and enjoy the glitz of the capital to a full extent. The overall ambiance of the place, the antique furniture that is to be found in every room and the exquisite service will make it very hard to leave, so be advised about that.
The Haymarket Hotel
London's Theatre district is a place of vibrant cultural activities and a very thriving art scene. If such a thing is up to your likings, then you are definitely going to find the Haymarket Hotel, right across the street of Theatre Royal up to your tastes. The hotel is surrounded by some of the best bars and restaurants on the territory of the capital, and it is also great if you are planning on exploring some of the major landmarks and tourist attractions of Inner London. Places such as Buckingham Palace and St James's Park are at a walking distance from Haymarket Hotel. The hotel itself has a very well equipped full treatment spa, an indoor swimming pool and of course a gym. The afternoon tea, following a centuries long tradition, is serviced every day at four, and is known for being among the most authentic and nice amenities here.
Taj Suites And Residences
The  Taj Suites And Residences at 51 Buckingham Gate are a 5AA stars luxury boutique hotel that, even though it may strain your budget a bit to stay here, is a place that has all the potential to make you fall in love with. The Taj is to be found in the ideal centre of London and boasts such amenities as an award winning spa, a hundred percent high-class room service and staff, impeccable rooms and suites and much more. It is a really great experience staying here, especially if you want to make the most out of your visit to London, while at the same time enjoying the benefits of a somewhat ethno-fusion atmosphere. The Taj Suites is the place where you and your family (or friends) will feel like true royalty. It is an experience that we recommend you go through at least once, because it is truly worth it.
Covent Garden Hotel
The Covent Garden area is well known for being among the most vibrant, fashionable and popular spots on the map of London today, including for such landmarks and attractions as the New Covent Garden Market. There is little surprise then that the Covent Garden Hotel benefits greatly and to a full extent from its location and the area's amenities. You are going to find it right next to the National Opera. It offers all the perks an uptown hotel has to, including a massage in the room, which is actually one of the main attractions and distinguished services of the place. There is a tube station literally across the street, so you can access any place in London from here with a relative ease and comfort.
Soho Hotel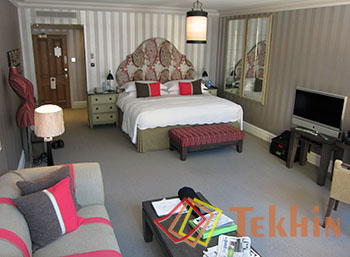 The Soho Hotel is to be found on Oxford Street, which is one of the most famous streets in London, being busy commercial and transport hub. As one can figure out without trouble, the hotel is named after the somewhat notorious entertainment district of Central London and it would more than certainly provide you with opportunities for some good time while you are staying in it. In addition to the basic amenities such as a fully-equipped gym rooms with air conditioning and very friendly staff, you will have very easy and comfortable access to vital parts of London, including a parade of restaurants, shops and nightclubs that are going to help you make your stay in the heart of the capital enjoyable, comfortable and worth remembering. The suites, as well as the lobby of the hotel, are decorated by beautiful sculptures that are definitely adding up to the atmosphere and the class of the establishment.
There is no need to be just visiting London to check out some of those hotels. For example, when you are moving, you might need a place to stay for a night or two between vacating your current residency in London and moving in the new place. What could be better to remove the stress, strain and worries from planning and carrying out your removal than treating yourself to a nice hotel room where you will feel like royalty? We thought so. Every relocation, or rather, every successful relocation, boils down to finding  a reliable man and van removal company and of course, coming up with methods to battle the stress other than careful planning and execution of your project.
Comments are closed.